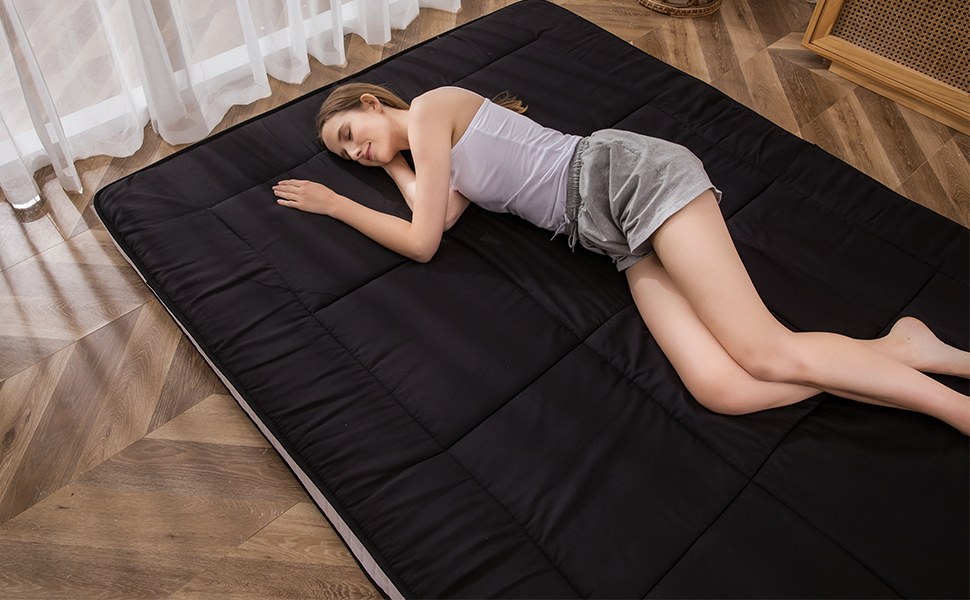 The word 'futon' may lead many to envision a sofa that can be converted into a bed when needed. This is a Westernized version of what is otherwise a traditional Japanese concept. Futon refers to the traditional bedding system that has been in use in Japan for centuries. The practicality and convenience of futons have meant that many Japanese continue to prefer futons, with some modernizations, to typical beds.
Elements of a Futon
The Japanese have perfected the art of using space. Japanese homes are usually compact and minimalistic. This is why they have a culture of not wearing shoes inside the house to not get the floor dirty. Traditional Japanese homes have tatami flooring or use tatami mats. Futons consist of a mattress, a blanket or a comforter, and a pillow. The mattress can be rolled up and stored conveniently away until when it is needed. This means any room in the house can be turned into a bedroom at night simply by taking out the futon.
Selecting the Best Futon Mattress
When buying a futon mattress, you need to consider a few things. Futon mattresses come in different sizes. Typically, they come in twin bed sizes, though you can get them in a double-bed size as well. Getting a twin bed futon mattress is better as it is easy to roll up and store, making it a convenient option. If, however, you wish to use a futon mattress with a wooden frame, much like a typical bed, go for the double-bed size. So, the size of the mattress may depend upon how you plan to use the futon.
Traditionally, futon mattresses are made with cotton batting. The natural material fillings provide a firm surface to lay upon and retain heat. They are also easy to roll up. Nowadays, futon fillings with synthetic materials are readily available. This means futon mattresses containing foam and even springs can be bought. These are softer but can prove more challenging to fold and store away.


Buying a Futon-Living on the Floor made Easy
Futons have always been in high demand and remain popular in and outside Japan. It is a practical bedding option that saves space and is affordable. Sleeping on the floor has plenty of benefits for people suffering from back issues; the firmness of the mattress is good for maintaining a proper sleeping posture. Futon mattresses are versatile as they can be used as a regular bed when combined with a wooden frame.
It is hard to know where you can get the best futon mattresses since so many companies are claiming to produce authentic ones. https://www.maxyoyouk.com is the top manufacturer of futon mattresses. They use the best quality materials and combine the traditional methods of making futon mattresses with the latest innovations. You can get futon mattresses with memory foam fillings with a microfiber covering for maximum comfort. The website has tons of design options as well, from solid practical colors to more fun designs. Select a futon mattress for the right support, maximum comfort, and the best price.